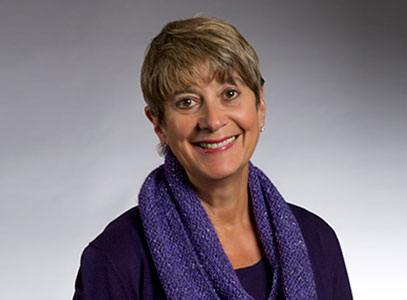 Ellen S. Gannett
Director at the National Institute on Out-of-School Time
B.S., University of Massachusetts, Amherst; M.Ed., Lesley College
egannett@wellesley[dot]edu
Directs the National Institute on Out-of-School Time at the Wellesley Centers for Women focused on policy research, program evaluation, training, and consultation to out-of-school time industry professionals and field.
Ellen S. Gannett is director of the National Institute on Out-of-School Time (NIOST) at the Wellesley Centers for Women at Wellesley College. A national action/research project, NIOST has provided research, evaluation, technical assistance, consultation, and specialized training on afterschool programs throughout the United States for more than 35 years. Ms. Gannett ensures that research bridges the fields of child care, education, and youth development in order to promote programming that addresses the development of the whole child and the professional advancement of the field.
Background
Gannett began her work in the afterschool field four decades ago as a teacher-director of a school-based afterschool program where she worked for seven years. Celebrating her fourth decade with NIOST, she has advanced in the organization from training director to associate director to co-director and now has been the director since 2006.
Education
Gannett received her M.Ed. from the Graduate School of Education at Lesley College. She received her bachelor's of science degree from University of Massachusetts, Amherst and attended the Merrill Palmer Institute in Detroit, MI.
Presentation Highlights
A speaker and trainer, Gannett has conducted hundreds of seminars and advised policymakers and practitioners throughout the country and internationally. She has been featured in numerous media stories and has given presentations to the following groups:
National AfterSchool Association Annual Conventions
World Forum on Early Care and Education
National Elementary Schools and Principals Association
Massachusetts Elementary Schools Principals Association
American Association of School Administrators
National School-Age Care Alliance
National Community Education Association, National Center for Community Education
National Association for the Education of Young Children
National League of Women Voters
Scottish Out-of-School Care Network
New Zealand Out of School Time National Conference State and Territories Administrators
Meeting for the Federal Child Care Bureau
Media Highlights
Video: Raising the Bar but Keeping the Heart This eight-minute video provides an overview of how the out-of-school-time (OST) field has evolved over the past few decades, with a specific examination of how scholars and trainers at NIOST have been integrally tied to this advancement. Professionals in the before- and afterschool world share their perspectives on workforce development, program quality, and the benefits of OST programming. As Ellen Gannett, director of NIOST, notes, it's essential that administrators, educators, and policy makers continue to raise the bar while "keeping the heart" central in OST.
Awards and Recognition
n 2014, Ms. Gannett was named one of the 25 most influential people in the afterschool community by the National AfterSchool Association. She is also the recipient of the American Camp Association's 2015 Hedley S. Dimock Award in recognition of her dedication and contributions to camp and ACA.
Selected Publications
Gannett has co-authored several NIOST publications including:
Youth Work Core Competencies: A Review of Existing Frameworks
Setting the Stage for a Youth Development Associate Credential: A National Review of Professional Development Credentials for the Out-of-School Time Workforce
Links to Learning: A Curriculum Planning Guide for Afterschool Programs
Gannett has also co-authored chapters in the following books:
Employer-Supported Child Care: Investing in Human Resources
Yearbook in Early Childhood Education, Vol. 5: Issues in Child Care
The Changing Landscape of Youth Work: Theory and Practice for an Evolving Field
She also co-authored the 1998 edition of ASQ: Assessing School-Age Child Care Quality as well as the Project's publication, School-Age Child Care: a Policy Report.
Affiliations
Gannett was a National Board Member of the American Camp Association from 2009 to 2014 and past co-chair of the Next Generation Youth Work Coalition. She has served as a member of the board for the National AfterSchool Alliance and the QRIS Professional Development Task Force with the Massachusetts Department of Early Education and Care. She is the former Board Chair and Founder of the parent-run afterschool program, which was attended by her two daughters, now adults.